If you're a transformation retreat leader who's ready to travel the world, make a difference AND make more money – then join Sheri Rosenthal for a retreat planning + marketing mastermind adventure.
May 14-20th, 2017!
As the sun is setting behind the white-capped Atlas Mountains and the souks are closing shop – you find yourself walking back to your stunning five-star hotel through the winding alleys of the red city.
Entering the exotic lobby, you're greeted by a refreshing glass of mint tea and soft candle-lights under the African stars.
Sinking into on one of the comfy red chairs, you can't help smiling about the delightful day you just had rummaging through alluring shops, eating in charming restaurants, and exploring with your amazing new retreat-loving friends!
Ah…the delights of Marrakesh!
(It's hard NOT to feel like Ingrid Bergman on the movie set of Casablanca!)
Marrakesh is the PERFECT place to spend 5 delightful days (and 6 nights)…
…brainstorming, planning and marketing your transformational destination retreat while learning the finer details of retreat management and best practices.
Imagine bringing that pile of stuff you've been working on for your retreat and FINALLY getting it all straightened out!  Perhaps you've been feeling…..
Flummoxed over what to teach and how to lay out your retreat?
No worries, we'll hash it out!
Can't seem to figure out where to have your retreat?
Happy to help – we've got you covered!
Having troubles pricing out your event?
Easy peasy – let's do it together!
Marketing your retreat got you frustrated and flustered?
We'll lay out your plan month by month.
Not sure how to monetize your retreat to make extra money?
Let us count the ways…
So why should YOU join us?
Simple, this is the PERFECT environment to get your retreat plan and your marketing strategy nailed down.
There's no need to do this alone, worried about whether you're doing things the right way or not – or whether you're going to be able to sell out your event!
The Retreat Mastermind Morocco is JUST what you've been looking for to get the help you need to make it happen!
Plus we'll be exploring the fabulous city of Marrakesh, eating incredibly delicious food, and availing ourselves of some of the most body-melting spa services!
Louise Abbott RMT, Registered Massage Therapist, Owner The Therapy Studio
The Venue…
Morocco – bordering the Atlantic and Mediterranean Sea – evokes images of souks and medieval maze-like streets, stretches of empty beaches, and stark deserts and mountains touched by Berber, Arabian and European influences.
We'll be spending six fabulous nights in the beautiful city of Marrakesh enjoying the exotic culture, food, shopping, and the glamorous décor of our legendary 5-star hotel, La Maison Arabe. Located right in the Medina down a narrow alley, you'll feel like you've found a secret oasis that only you know about.
The Moroccan craftwork is stunning, the rooms beautifully appointed, and the atmosphere is the perfect cross between African-Oriental chic and a classic colonial club vibe. The hotel restaurants are famous – Winston Churchill, Charles de Gaulle and Jackie Kennedy all ate here (not to mention you too of course!).
Tadelakt walls, chiseled plaster, cedarwood ceilings, and metal lamps creating lovely patterns of light that dance upon the walls add to the hushed ambiance making La Maison Arabe the perfect combination of classic riad and chic boutique hotel.
And best of all, you can walk right out the door and immerse yourself in the mesmerizing souks and smells of Marrakesh!
For sure you'll fall in love with the Moroccan decor and there's no way you're going home without a piece of Morocco – whether it's a beautiful lamp, unique textiles, a pouf, a carpet, silver jewelry pieces, or leather goods.
<– Do take a moment to watch the video to get a feel of the 5-star La Maison Arabe!
The Cuisine…
Let's get this straight right from the start – Moroccan food is simply delicious – perfect for our vegetarians and meat-eaters alike. The breads here are baked fresh daily, and the dinners are slow, multi-course relaxing affairs with candlelight and magic.
If you don't eat this or that – no worries – we are happy to accommodate any of your food preferences.
We'll have four nights out on the town to experience the ubiquitous mouth-watering local tagines (you CANNOT go to Morocco and not eat a scrumptious tajine with couscous!) and on our last night we'll dine in the most well-known club in the red city, Le Comptoir, where we'll admire the fabulous belly dancers (or maybe just get up and dance with them!).
I'd also like to introduce you to a couple of my favorite restaurants: Al Fassia, Pepe Nero and of course the famous one that just happens to be at our hotel, La Trois Saveurs! And the desserts? Oh dear…..I hope you plan on doing a lot of walking around town to burn off the calories (just look at the picture behind this text – seriously).
Feeling brave?
Then try something at the open air market at the infamous Jemma el-Fnaa Square at night.
There's always something fascinating to taste – simply wind your way past the snake-charmers and witch-doctor stalls and then simply follow your nose!
The Delights…
To start with, no trip to Marrakesh would be complete without indulging in a traditional hammam at Les Bains de Marrakech.
The Moroccan Hammam is a place where locals go to socialize, relax and meet one another, but also to get scrubbed within an inch of their lives!
Be prepared to open your pores (and have your dead skin be gone!) with an exfoliating glove and savon noir soap (their black soap made from home-grown olive oil). Slather on a little argon oil afterwards and you'll leave feeling squeaky clean, fresh, shiny, intensely relaxed and totally refreshed! Ahhhhh……
And don't forget to treat yourself to Les Bains de Marrakech home products and take home their delicately perfumed candles (they make lovely holiday gifts), their home perfumes, and face and body crèmes.
Souks, Seashore + Vineyards!
If that's not tempting enough – I've planned a day trip to the beautiful sea-side port of Essaouira (pronounced "essa-weera" or "es-Sweera" in Arabic – see the picture to the right) to explore the souks and seashore and enjoy a lovely lunch. The fortified city walls, constant sea-breezes, and sea gulls flying above make this city charming with a totally different feel than Marrakesh!
Outside of Essaouria is Les Domaines du Val d'Argan – an incredible little winery (owned by a Frenchman) that is known for its outstanding wines and beautiful vineyards. We'll take time for a visit and a tasting – you are going to be pleasantly surprised!
And not to be missed is a stop at the Cooperative Feminine d'Argana El Kheir for some of Morocco's beloved Argan Oil. After all, once we go to the hamman we've got to make sure we keep our skin soft and our locks shiny.
And we can't forget a tour of the highlights of the city with our trusty guide exploring the old medina souks for djellaba robes, spices, babouches (Moroccan slippers), carpets and colorful ceramics, perhaps visiting the old ruins of the El Badi Palace, or the stunning Bahia Palace (which truly is an architectural wonder).
I'm not sure exactly what we'll be seeing yet – it all depends on our mood and our guide. And yup – don't worry, you'll also have plenty of time to do your own shopping if you need some extra retail therapy!
I'll be happy to give you my secret shopping list so you can do some serious explorations on your own but if you're feeling like you need to just chill-out, our awesome hotel has a complementary shuttle to their beautiful country club and pool just 15 minutes outside of town where you can sip a drink by the pool or have a snack at Le Figuier restaurant.
The Bennies…
So what can YOU expect if you spend 5 delightful days (and 6 nights) masterminding and enjoying yourself on an exquisitely decadent adventure to Marrakesh?
Well, what if you got insanely inspired to design the most outrageously amazing life-changing retreat for your clients (and most of all for yourself)?
And what would it mean to you if you picked up a few gems that ended up netting you an additional $10,000-50,000 from your retreat?
Would THAT be worth coming
to Morocco for?
I sure think so!
PLUS you'll get to pick my brains for 5 days – that in itself is priceless!
Please keep in mind: This is a MASTERMIND – so that means I will not be lecturing in front of the room to you.
Come to the event with a list
of what you want to get done
and we'll accomplish it together!
Then we can continue to follow up after the retreat in the Retreat Blueprint Program Facebook group so we make sure that you are accountable and get the job done!
**This will guarantee you have all the post-retreat follow-up assistance necessary to get your trip planned, marketed, filled, and monetized.
Nadia Gualtieri, Heart + Soul Journeys and Transformational Coaching
Leigh Daniel, CEO and Founder at Project Positive Change
You come in with a concept about what you think your retreat is going to be about, and then you walk away with a completely – not different – but expanded version of what you'd originally thought you were going to do.
And this transformation happens because you have the amazing energy of everyone around you, their input and imagination – it sparks something in you that has you thinking larger and more creatively than you would ever have sitting alone.
Tracey Joynt
Together we can focus on:
Choosing a title, theme and promise that's irresistible (your retreat won't fill if your copy sounds like boring oatmeal).
Getting clear on exactly what you'll be sharing on your retreat (you can't teach everything you know).
Understanding the particulars about picking a location (not every retreat should be on the beach – it's key to choose a location that supports your topic).
What information belongs on your trip page (to sell your retreat & to protect you)?
How to PROPERLY price your event (so you don't LOSE money)!
The TOP strategies for promoting and filling your retreat (if it doesn't fill you could lose your deposit and your shirt)!
Setting up basic funnels on your website to grow your list (you want to fill your retreat with your peeps not strangers).
Tips you can use on Facebook to get your tribe excited about your trip (there are more than you think).
Further monetizing your event (up-sell your participants to your high-ticket programs and more)!
Whatever it is you want to discuss and work on!
I'm here for YOU and no subject is out of bounds! (Well, I really prefer not to talk about foot problems from when I was a podiatrist!)
The BONUSES!!
(we can't forget them!)
The best bonus of all: included with this retreat is our Retreat Blueprint Program which has everything you'll need to put together a FABULOUS retreat:
One year of bi-monthly LIVE group coaching classes so you have the support you need after the retreat.
My personal vault of Retreat Specific Legal Forms.
ALL of my worksheets for pricing, working out your cancellation policy, tracking participants' payments, flights & info, reconciliation worksheet, my retreat planning calendar, and more!
All my participant registration, health, and information forms that your clients are going to fill out and refer to.
My list of over 2000 Retreat Centers, Villas, & Boutique Hotels Worldwide.
Membership in our private Facebook group for one year where we'll be answering questions and helping you year round.
Keep in mind – this is a MASTERMIND – which means I will not be lecturing in front of the room to you – all the basic information your need for retreat planning will be at your fingertips as part of the Retreat Blueprint Program.
Come to the event
with a list of what
you want to get DONE
and we'll accomplish it together!
**Getting the Retreat Blueprint Program and a year of post-retreat coaching will guarantee you have all the follow-up assistance necessary to get your trip planned, marketed, filled, and monetized in the time after this retreat.
About Marrakesh…
What can I say? I LOVE Morocco. It is a beautiful country with vast contrasts from stark red deserts to lush green olive groves.
The people are as diverse as the stunning landscape, with Berbers and Arabs making up the majority of the current population.
Islam is the predominant religion, although there are Christians and Jewish people living in the country too.
The people pride themselves in being tolerant and open and abhor violence. The King and the Moroccan government are strongly against terrorism and have security measures in place to prevent negative influences from taking hold in their country.
There haven't been any warnings for Morocco and it is considered quite safe to visit and in fact – there is a very large expatriate community living in Marrakesh because it is such a beautiful and delightful city with fabulous restaurants, reasonably priced, lots of activities, and a fascinating culture.
Most of the people speak both French and Arabic – so if you speak French you will have an especially fun time!
However, English is spoken by most people who interact with tourists so you will have no problems communicating with folks while wandering around town.
Laurel Moore, Owner at Powassan Yoga
What's Included:
Three morning (9-12pm) and one all-day (9-12, 2-6pm) deep-dive mastermind sessions + lots of juicy retreat conversation all week!
The Retreat Blueprint Program is included in the trip pricing so that you have follow-up support after the retreat is over (click here for more details on what is included in the program)
5-star boutique accommodations double occupancy six nights (yes, there are 2 beds in the rooms)
Six delicious breakfasts at La Maison Arabe
Welcome dinner at La Maison Arabe + a farewell dinner together at Le Comptoir
Dinner at Al Fassia ("The Woman from Fes") – a restaurant owned and run by women that employs mostly women
Dinner at Pepe Nero – a delightful Italian restaurant
Two nourishing lunches either at our hotel or out + about town
Lunch out during our trip to Essaouira and a visit to a Moroccan winery and the Cooperative Feminine d'Argana El Kheir
Transportation and guide for our day trip to Essaouria
Tour guide for our day around town and the souks
Half-day traditional hammam spa experience at Le Bains de Marrakesh
Entrance fees to any sites we visit together in Marrakesh
Transport to the hotel on May 14th and back to the airport on May 20th (at the designated times only!)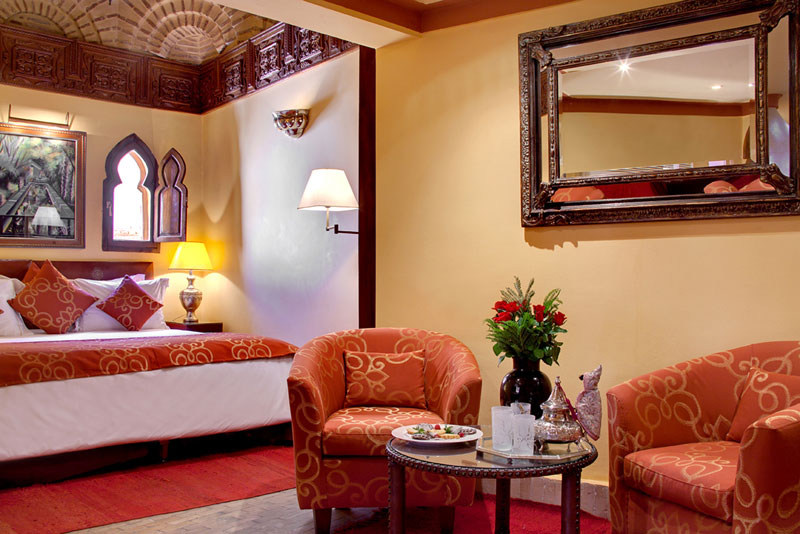 What's Not-Included:
Your round-trip airfare from home
One dinner and two lunches are not-included
Any wine you purchase at the winery or oil at the argan co-op
Other non-included items would include souvenir shopping, personal phone calls, extra spa services, taxis, laundry, bell-boys, and tips for your room maid (we recommend $1-2 USD per day per person)
Personal, medical or trip cancellation insurance
Flights:
You must arrive into the Marrakesh Menara Airport (RAK) on May 14th and depart May 20th, 2017 after breakfast. We'll have two airport pick-ups for the group arriving on May 14th – at 2 and 4pm. If you are not arriving in time to be on those transports we can help you arrange your own taxi to the hotel (at your cost).
If you want to come earlier or stay later for some exploring – call Ales Struna (pronounced Alesh) our travel planner extraordinaire. He can help you design something fabulous as well as make sure that you actually end up in Morocco at the right time and in the right place!  Feel free to ring him at +1866.866.5566.
About Sheri:
Sheri Rosenthal loves retreats. She loves teaching about them, designing them, planning them, running them, making a great income from them – and she wants you to love them as much as she does.
It all started back in 1999 when she sold her podiatry practice and started studying with don Miguel Ruiz (author of The Four Agreements).
That's when she went on her first transformational destination retreat and has been obsessed with them ever since (after all, they totally changed her life). She ended up running don Miguel's business for two years of the eight she worked with him, allowing her to plan and run all his retreats and events.
That inspired her to create her own travel agency in 2003 – Journeys of the Spirit®, where she's been planning and managing other facilitators retreats for the past twelve years.
Currently, Sheri is known as one of the most sought after retreat strategists for coaches, facilitators and authors. She is famous for helping clients plan, fill, and profit from transformational retreats that both change lives and add serious income to their bottom line!