If you're a purpose-driven entrepreneur who's ready to amplify your soul's gifts – mentally, physically, and spiritually  – then join us in exotic Marrakesh for this powerful mastermind adventure surrounded and supported by the perfect group of people to help uplevel your life and business!
Sipping mint tea beside the pool as the setting sun slowly sinks behind gently swaying palms, a gentle breeze delights your senses with the scent of Moroccan roses and jasmine…
…it's the end of an incredible day spent experiencing the exotic pulse, uplifting energy, fragrant spices, and magnificent chaos of the legendary "Red City" of Marrakesh.
You laugh with new friends, sharing your adventures from the maze-like souks (the Moroccan marketplace)  — offering everything from hand-crafted leather-ware, to finely wrought Berber silver jewelry, to snake charmers — and all things in between!
Gazing on the magnificent High Atlas Mountains you can hardly believe that, at last, you're here… dining under the African stars.
(It's hard NOT to feel like Ingrid Bergman on the movie set of Casablanca!)
Ah…the delights of Marrakesh! Let me tell you more….
Marrakesh is the PERFECT place to spend 6 delightful days…
In the company of a select handful of the most inspired and purpose-driven entrepreneurs you could wish to meet…
…brainstorming and creating a a truly SWOONWORTHY trip page for your retreat that your tribe can't wait to sign up for.
Just imagine learning the art and science of creating high-converting, to-die-for sales pages for all your retreats.
(Plus: a whole toolkit of practical techniques and strategies you can apply to crafting irresistible sales pages for your other products, programs and events).
…And leaving with your page totally done and ready to market!
Yes, DONE and READY TO MARKET.
You heard me right.
This unmissable retreat experience was specifically designed for YOU to combine the ultimate in business-building savvy with a life-expanding travel experience that you will remember for a lifetime.
There is something about the magical energy of this city that will inspire you and your imagination – and getting away from your desk, and exploring the nooks and crannies of the souks – will have you feeling relaxed and in tip-top shape for getting some of your best work DONE!
Plus you'll be able to pick our brains on:
Retreat details
(such as how much to teach, how many people should you have, etc…)
Participant predicaments
(what if someone gets sick, cancels the last minute, is a Negative Nelly…)
Location logistics
(what spot best aligns with what you are teaching, how can you plan a trip in a foreign country, etc…)
Pricing problems
(how much to you add in for your net, how many people do you base your pricing on…)
Marketing mayhem
(how early do you start marketing, what actions do you take to get a retreat filled….)
And whatever OMG this-is-driving-me-crazy retreat questions that you can think of!
Being able to talk out what you're creating so you feel comfortable and confident is CRITICAL to your success knowing you're getting the BEST feedback and advice possible!
(And let's not forget, we'll be eating incredibly delicious food, and availing ourselves of some of the most body-melting spa services.)
Leigh Daniel, CEO and Founder at Project Positive Change
The Venue…
Morocco – bordering the Atlantic and Mediterranean Sea – evokes images of souks and medieval maze-like streets, stretches of empty beaches, and stark deserts and mountains touched by Berber, Arabian and European influences.
We'll be spending seven fabulous nights in the beautiful city of Marrakesh enjoying the wonderful culture, food, shopping, and the charming décor of the fabulous Villa Dinari. You'll feel like you've found a secret oasis that only YOU know about.
Filled with scented roses, jasmine, and bougainvillea, our laidback boutique hotel was lovingly designed and built by Heather and Abdul Benhrima. Heather is originally from the UK and met and fell in love with Abdul on one of her trips to Morocco. Abdul was her very well-known guide, and as you can imagine….the rest was history!
There is nothing they want more than to share their overwhelming love for Marrakesh and the beautiful people of Morocco with you. And truly, having Abdul as our guide in the city is an extraordinary honor – there's not a corner of the city that he does not know by heart.
* Villa Dinari has several dogs on the property just so you know.  🙂
The Cuisine…
Let's get this straight right from the start – Moroccan food is simply delicious – perfect for our vegetarians and meat-eaters alike. There's no processed food at Villa Dinari – only delicious homemade food using the freshest locally grown resources. And it is simply not possible to go to Morocco and not eat a scrumptious home-made tajine with couscous!
The breads are baked fresh daily in each village's communal oven, and dinners are slow, multi-course relaxing affairs with candlelight and magic. If you don't eat this or that – no worries – Heather and Abdul are happy to accommodate any of your food preferences.
We'll have two nights out on the town to experience the fabulous international food scene (as well as perhaps a bout of belly dancing?). On our last night together we'll be eating in my favorite Italian restaurant, Pepe Nero.
And the desserts? Oh dear…..I do hope you plan on doing a lot of walking around town to burn off the calories (just look at the picture behind this text – seriously).
If that's not tempting enough – I've planned a special half-day with chef Tarik Harabida at his organic gardens where we're going to learn about Moroccan cuisine drawing its influences from Berber, Jewish, and Arab-Andalusian traditions.
We'll create a delicious meal including salads, tagines and dessert – and we'll then get to eat what we've created (yes, detailed recipes will be provided for you to take home along with a special surprise!!).
Feeling brave?
Then try something at the open-air market at the infamous Jemma el-Fnaa Square at night – simply wind your way past the snake-charmers and witch doctors stalls and then just follow your nose. 😊
The Delights…
To start with, no trip to Marrakesh would be complete without indulging in a traditional Hamman at our fabulous hotel.
For locals, the Moroccan Hammam is a place where folks go to socialize, relax and meet one another, but also to get scrubbed within an inch of their lives!
Be prepared to open your pores and be scrubbed with an exfoliating glove and savon noir soap (their black soap made from olive oil).
Slather on a little argon oil afterwards and you'll leave feeling squeaky clean, fresh, shiny, intensely relaxed and totally refreshed! Ahhhhh……
And we can't forget a tour of the highlights of the city with our trusty guide Abdul exploring the old medina souks for djellaba robes, spices, babouches (Moroccan slippers), old carpets and colorful ceramics, perhaps visiting the old ruins of the El Badi Palace, or the stunning Bahia Palace (which truly is an architectural wonder).
I'm not sure exactly what we'll be seeing yet – it all depends on our mood and our guide Abdul (we will be visiting during Ramadan).
And yup – don't worry, you'll also have some time to do your own shopping if you need some extra retail therapy! (I'll be happy to give you MY secret shopping list if you like, I promise I'll share.)
PLUS: No Moroccan retreat can be complete without a VIP party with a live Gnawa band (there's nothing like chilling-out to those body-moving African rhythms).
We might even invite some acrobatic fire eaters or maybe even a belly dancer?
What's Gnawa? 
Gnawa music has been part of Morocco's music culture since the 11th century when sub-Saharan African slaves were brought to Morocco. The Gnawa people practice a mystic, spiritual version of Islam, combining Islam with sub-Saharan West African traditions.
Traditionally, their music is accompanied by dancing and sacrifices, designed to place the participants of the ceremony in a trance, where they can communicate directly with the spiritual realm as well as heal participants in the ritual.
Take a moment to listen to Grammy-nominated Innov Gnawa collective sing the beautiful Gnawa song, "Toura Toura." They use traditional instruments, from the lute-like Sintir that the lead singer (the Maâlem) uses to call the tune, to the metal Qarqaba (castanets) which the kouyos (chorus) use to keep the rhythm.
Close your eyes and imagine yourself in Morocco…..
The Bennies…
So what can YOU expect if you spend 6 delightful days (and 7 nights) masterminding your business success AND enjoying yourself on an exquisitely decadent adventure to Marrakesh?
→ Well, what if you got all the help you needed to design your stunningly gorgeous trip page that has your ideal clients swooning in anticipation and signing up on the spot?
→ And what if you also had access to expert help with crafting and refining YOUR targeted, irresistible messages that sell?
→ And what if you could get answers to ALL of your marketing questions in real time, from experts who've taken the time to understand you, your business and YOUR specific strengths and challenges?
→ And on top of ALL THAT, what would it mean to you if you picked up a handful of strategy gems that ended up netting you an additional $10,000-50,000 from your next retreat (and all your future trips too)!?!
Would THAT be worth coming
to Morocco for?
Seriously!? I sure think so!
PLUS: you'll get to pick our brains even BEFORE you step foot on the plane!
Yes, to make sure you're fully organized and on track to get the most out of this amazing experience, we'll get together on a group call BEFORE the event to coach you on the specific background information to bring along in order to max out the value of this unique opportunity – and that's priceless!
Please keep in mind: This is an IMPLEMENTATION MASTERMIND – so that means we will not be lecturing in front of the room to you.
This is your opportunity to work totally interactively with us ONE-ON-ONE, addressing your EXACT areas of concern, and helping you identify blind spots, solve challenges, and 10X the impact of your retreat offering… and so much more.
Nadia Gualtieri, Heart + Soul Journeys and Transformational Coaching
Laurel Moore, Owner at Powassan Yoga
You come in with a concept about what you think your retreat is going to be about, and then you walk away with an expanded version of what you'd originally thought you were going to do. And this transformation happens because you have the amazing energy of everyone around you, their input and imagination – it sparks something in you that has you thinking larger and more creatively than you would ever have sitting alone.
You'll leave Morocco with:
Your drop-dead-gorgeous retreat trip page (sales page) DONE.
Your stunning custom trip page header (delivered within two weeks of getting home) DONE.
Your wildly delicious trip name and irresistible tagline DONE.
Your heart-fluttering headlines that sell DONE.
Your mouth-watering destination images chosen, customized and DONE.
Your perfect target avatar confirmed, refined and DONE.
Your most pressing questions, challenges and blind spots identified, answered and DONE.
Your sky-high confidence and energy that's irresistibly attractive to ideal clients who totally "get" your value (and LOVE what you stand for) DONE.
And we'll answer all your questions on:
Choosing a title, theme and promise that's irresistible (your retreat won't fill if your copy sounds like boring oatmeal).
What to teach on your retreat (you can't teach everything you know).
Picking a location (not every retreat should be on the beach – it's key to choose a location that supports your topic).
What information belongs on your trip page (to sell your retreat & to protect you)?
PROPERLY pricing your event (so you don't LOSE money)!
TOP strategies for promoting and filling your retreat (if it doesn't fill you could lose your deposit and your shirt)!
Tips you can use on Facebook to get your tribe excited about your trip (there are more than you think).
Monetizing your event (up-sell your participants to your high-ticket programs and more)!
Whatever it is you have a question on!
We're here for YOU and no subject is out of bounds! (Well, I really prefer not to talk about foot problems from when I was a podiatrist!)
About Marrakesh…
What can I say? I LOVE Morocco. It is a beautiful country with vast contrasts from stark red deserts to lush green olive groves.
The people are as diverse as the stunning landscape, with Berbers and Arabs making up the majority of the current population.
Islam is the predominant religion, although there are Christians and Jewish people living in the country too.
The people pride themselves in being tolerant and open and abhor violence.
The King and the Moroccan government are strongly against terrorism and have security measures in place to prevent negative influences from taking hold in their country.
There haven't been any warnings for Morocco and it is considered quite safe to visit and in fact – there is a very large expatriate community living in Marrakesh because it is such a beautiful and delightful city with fabulous restaurants, reasonably priced, lots of activities, and a fascinating culture.
You can feel safe walking in the souks, bargaining and shopping – of course just like when you walk about in any city you want to make sure your money and belongings are tucked away safely.
Most of the people speak both French and Arabic – so if you speak French you will have an especially fun time!
However, English is spoken by most people who interact with tourists so you will have no problems communicating with folks while wandering around town.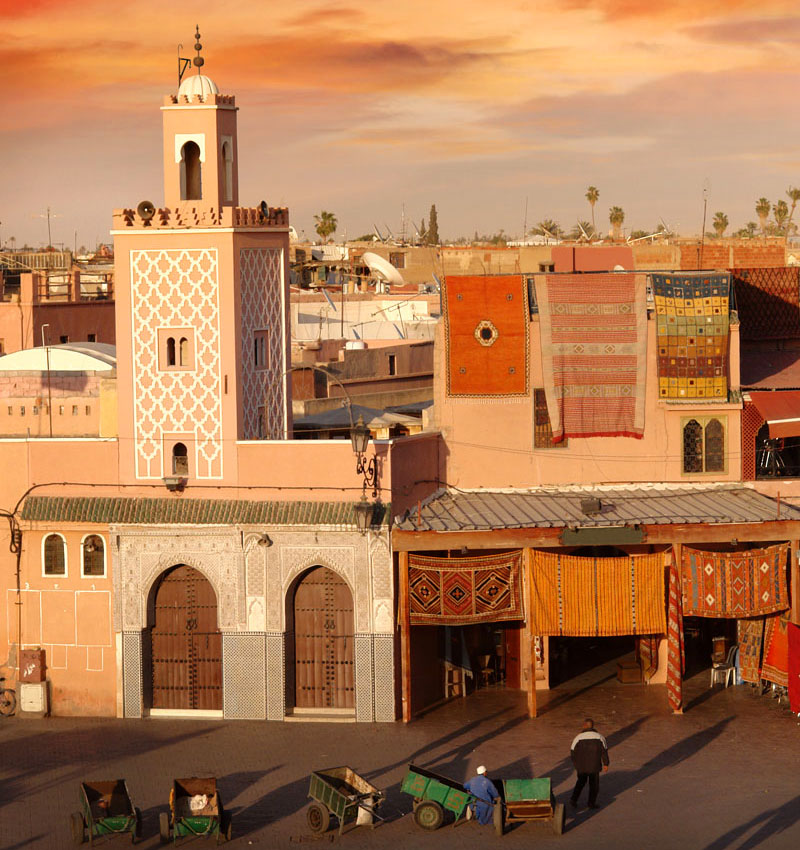 What's Included:
Four deep-dive mastermind sessions with Sheri & Kerrianne + lots of juicy retreat conversations all week!
Pre-trip Preparation Call
Boutique accommodations double occupancy seven nights at Villa Dinari (yes, there are 2 beds in the rooms)
Seven delicious breakfasts at Villa Dinari
Four beautiful dinners at Villa Dinari
Our Farewell Dinner at Pepe Nero – a delightful Italian restaurant
Two nourishing lunches either at our hotel or out + about town
Our VIP party with music and hors d'oeuvres
Tour guide for our day around town and the souks
Entrance fees to any sites we visit together in Marrakesh with our guide
1.75-hour Hammam spa experience at Villa Dinari
Cooking class adventure with Chef Tarik Harabida at his organic gardens
Tips to the Villa Dinari staff
There will be three airport pickups on day one and three airport drop off's on day eight included (if you arrive at an odd time we can arrange pickup at an extra charge).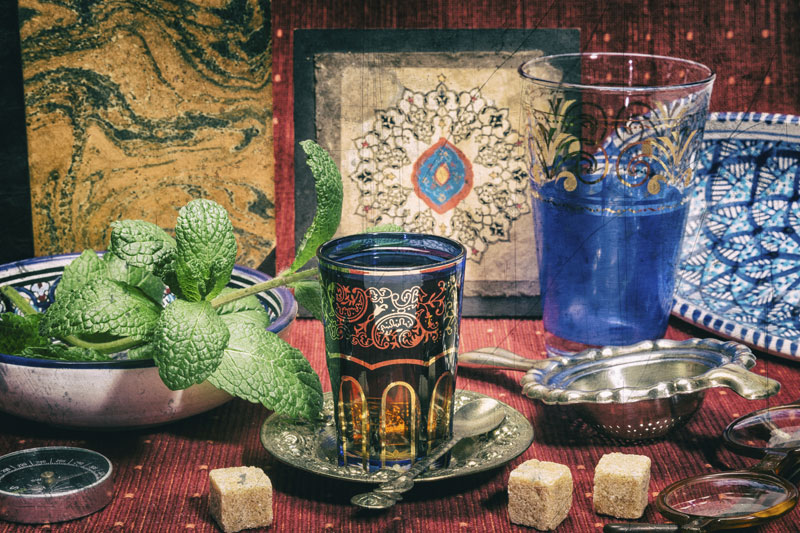 What's Not-Included:
Your round-trip airfare from home
One dinner and one lunches are not-included
Transportation by taxi to and from the Medina on your free day
Other non-included items would include souvenir shopping, personal phone calls, extra spa services, taxis, laundry, and bell-boys.
Personal, medical or trip cancellation insurance
Flights:
Arrive into the Marrakesh Menara Airport (RAK) on May 11th before 4pm if possible so we can pick you up and get you settled in before dinner. We recommend you depart May 18th, 2019 after breakfast. (Please do not fly into Casablanca!) We'll have three airport pick-ups on May 11th and if you are not arriving in time to be on those transports we can help you arrange your own taxi to the hotel (at your cost). Same situation going home.
If you want to come earlier or stay later for some exploring – call Ales Struna (pronounced Alesh) our travel planner extraordinaire. He can help you design something fabulous as well as make sure that you actually end up in Morocco at the right time and in the right place!  Feel free to ring him at +1866.866.5566.
About Sheri:
Dr Sheri Rosenthal is known as one of the most sought after retreat and business strategists for coaches, speakers, and authors — and is the owner of Journeys of the Spirit Travel®, a boutique agency specializing in the planning and management of group travel.
Through her Wanderlust Entrepreneur Community and her signature course, The Retreat Blueprint Program, she has taught thousands of facilitators how to design exceptional retreats that allow them stand out in their niche.
She loves teaching and helping her heart-centered entrepreneurs fulfill their purpose and dreams while adding serious income to their bottom line!
Little-known facts: Sheri actually never wanted to be a doctor – she wanted to be an architect and actually has designed ALL her websites and all the sales pages that she uses in her business.
About Kerrianne:
Kerrianne Cartmer-Edwards is the founder of "Unforgettable Impact" brand consultancy, and works with audacious entrepreneurs across the US, Canada, Australia and the UK.
Since 2008 she has helped hundreds of entrepreneurs to uplevel their impact, influence and income with a unique style, and message that perfectly expresses their values, attracts highly targeted clients, and delivers an utterly unforgettable experience.
She is driven by curiosity, an enduring love affair with style, and the hard-won strategic insights from over a decade as an in-the-trenches online marketer. Her best-loved moments in life are when those three characteristics collide.
Her favourite things include travel, music, dancing, champagne, red lipstick, and all things that sparkle—in no particular order.
Little-known facts: She has dived with sharks, walked across 1200 degree coals and even thrown herself out of a perfectly good airplane.