If you're a purpose-driven entrepreneur who's ready to uplevel your inner game, amplify your soul's gifts in the world, and turbo-charge your business' joy and abundance ― then join us in exotic Marrakesh for this powerful and never-to-be-forgotten mastermind adventure!
Sipping mint tea beside the pool as the setting sun slowly sinks behind gently swaying palms, a gentle breeze delights your senses with the scent of Moroccan oranges and jasmine…
…it's the end of an incredible day spent experiencing the exotic pulse, uplifting energy, fragrant spices, and magnificent chaos of the legendary "Red City" of Marrakesh.
You laugh with new friends, sharing your adventures from the maze-like souks (the Moroccan marketplace)  — offering everything from hand-crafted leather-ware, to finely wrought Berber silver jewelry, to snake charmers — and all things in between!
Gazing on the magnificent High Atlas Mountains you can hardly believe that, at last, you're here… dining under the African stars.
(It's hard NOT to feel like Ingrid Bergman on the movie set of Casablanca!)
Ah…the delights of Morocco!
Let me tell you more….
Now I know you've heard that you're the average of the five people you spend the most time with…
…so imagine the effect of five extraordinary days and nights in the exclusive company of motivated and enterprising entrepreneurs like you ꟷ sharing not only their collective wisdom and best strategic business insights, but also with the specific intention of helping you reach your goals and fulfill your greatest potential.
This visionary event is a true meeting of minds, hearts and soul-centered savvy.
Because together, we are SO much more than the sum of our parts.
And we all know the world needs positive input more than ever before ꟷ it's obvious there's no time to lose.
That's why NOW is the time to uplift, uplevel and unleash our collective energy and intention into the world!
And masterminding is the #1 way to radically accelerate your rise, and help you make the difference you came here to make.
You yearn for experiences that are awe-inspiring, soul-stirring, heart-opening, and above of all… LIFE-changing.
You know beyond a shadow of a doubt your business is the expression of your spiritual evolution.
You're driven to BE the change you want to see in the world.
You feel called to inspire and empower others.
You naturally steer clear of mediocrity and conformity.
You crave freedom and time to recharge and nurture your creativity.
You desire adventure and the space to connect with other like-minded leaders to exchange ideas and possibilities.
If you answered YES to five of these or more, then this business mastermind retreat was made especially with YOU in mind…
…that's exactly why you're going to LOVE Wanderlust Mastermind Morocco.
It's 5 days of adventure, delicious food, culture, masterminding, rejuvenation, spirituality, giving back – and FUN – something we ALL desperately need after this past year!
This carefully curated experience was designed for YOU combining the ultimate in business-building savvy with a heart-opening travel adventure that you'll remember for a lifetime.
There's something about the magical energy of this city that will inspire you and your imagination – the perfect place to gather, amplify our collective energy, and empower each other to soar in life and business!
Not only will you be taking your BUSINESS to the next level ― even more crucially, you'll be taking YOURSELF to the next level.
What YOU Are Going to Walk Away With…
So what can you expect if you spend 5 incredible days and nights masterminding your business success AND enjoying yourself on an exquisitely decadent adventure to Marrakesh?
→ Well, what if you got the EXACT inspiration you needed to design the perfect new program (or whatever) for your business that sends your profitability through the roof?
→ What if you finally figured out a UNIQUE marketing angle that stops your dream clients in their tracks and gets them lining up to work with you?
→ And what if you had access to a group of entrepreneurs willing to generously share their expertise with YOU and your mission in the world?
→ And what if you could get answers to ALL your questions in real time from people who actually care about you?
→ And on top of ALL THAT, what would it mean to you if you picked up a handful of strategy gems that ended up netting you an additional $10,000—$100,000 or MORE in your biz!?!
Would THAT be worth coming to Morocco for?
Yes, without a doubt!
Here's the thing: BEFORE you even step foot on the plane you'll start to make influential connections and lifelong friendships in our private Facebook Group!
And to make sure you get the absolute MOST from this amazing experience, we'll get together on a group call BEFORE the event to prepare you for the journey.
This is a MASTERMIND event — so that means ALL OF US will be sharing and teaching (yes, you will be called on to give a presentation to the group in your area of expertise).
By the end of the 5 days, the group mind will be overflowing with valuable tips, cutting-edge insights and income-rocketing strategies to help you accelerate your success and live your best life.
Take advantage of this rare opportunity to identify your blind spots, amplify your strengths, solve challenges, get tips, and 10X the impact of your business… all within a completely safe and empowering community of like-minded entrepreneurs.
We're in this together. It's all about coming from a place of generosity and helping each other with advice, pointers, and connections. There's a reason they say, "a rising tide lifts all boats."
The new paradigm of business is here. Are you ready to be a part of it?
Morocco — bordering the Atlantic and Mediterranean Sea — evokes images of souks and medieval maze-like streets, stretches of empty beaches, and stark deserts and mountains touched by Berber, Arabian and European influences.
We'll be spending five fabulous nights in the "Red City" of Marrakesh enjoying the wonderful culture, food, shopping, and the charming décor of our digs: the fabulous 5-star Le Riad — the Exclusive Collection Space here at the Club Med.
The Palmeraie Resort is spread around a vast pool bordered by a hundred old olive trees and stately palms.
The soft oriental lights, the pervasive orange blossom scent, and the tinkle of the water in the fountains, provides a beautiful respite for our mastermind adventure.
Every room in Le Riad is a suite with its own living room, expresso machine, and private garden — plus, the Riad has its own private pool just for its guests.  Ahhhhh……
You'll feel like you've found a secret oasis that only YOU know about…
And in typical Club Med style, there are more activities and offerings to take advantage of than you can possibly take advantage of!
Keep in mind, there's no way you're going home without a piece of Morocco — whether it's a beautiful lamp, unique textiles, a pouf, a carpet, silver jewelry pieces, or leather goods.
The Cuisine…
Let's get this straight right from the start — Moroccan food is simply delicious — perfect for our vegetarians and meat-eaters alike. And it's simply NOT possible to go to Morocco and not eat a scrumptious home-made tajine with couscous!
The word tagine actually has two meanings. First, it refers to a type of North African cookware traditionally made of clay or ceramic. The bottom is a wide, shallow circular dish used for both cooking and serving, while the top of the tagine is shaped into a tall rounded dome or cone.
Second, the word tagine also refers to the succulent, stew-like dish which is slow-cooked in the traditional cookware. Typically, a tagine is a rich mixture of meat, poultry, or fish, and most often includes vegetables or fruit. Vegetables may also be cooked alone in the tagine.
Plus, bread in Morocco is baked fresh daily in each village's communal oven — and dinners are slow, multi-course relaxing affairs with candlelight and magic. If you don't eat this or that — no worries — we're happy to accommodate any of your food preferences.
And the desserts? Oh dear…..I do hope you're planning on doing a lot of walking around town to burn off the calories (just look at the picture behind this text – seriously).
Feeling brave?
Then try something at the open-air market at the infamous Jemma el-Fnaa Square at night – simply wind your way past the snake-charmers and witch doctor's stalls and then just follow your nose. 😊
Of course, no trip to Marrakesh would be complete without exploring the labyrinth of souks in the ancient Medina.
Step back in time to another world (it's not uncommon to still see donkey-pulled carts laden with goods) and haggle for bargains in the time-honored Moroccan tradition. Djellaba robes, exotic spices, butter-soft babouches (Moroccan slippers), hand-crafted carpets or wildly colorful ceramics — and perhaps a visit to the old ruins of the El Badi Palace, the Saadian Tombs or the stunning Bahia Palace (which truly is an architectural wonder) are all on our menu!
And yup — don't worry, you'll also have some time to do your own shopping if you need some extra retail therapy! (I'll be happy to give you MY secret shopping list if you like, I promise I'll share.)
**I'm not sure exactly what we'll be doing yet — it all depends on our mood, guide, and any COVID restrictions. (I'll update this as I get more info!)
However, I do have in mind:
Flying on the trapeze…
Racing ATV's in the desert…
Dining under the stars,…
Getting a taste of the High Atlas Mountains — let's see what unfolds….
Next. No self-respecting wanderluster would travel to Marrakesh without experiencing a traditional Hamman.
For locals, the Moroccan Hammam is a place where folks go to socialize, relax and meet one another, but also to get scrubbed within an inch of their lives!
If you choose to try this, be prepared to be scrubbed with an exfoliating glove and savon noir soap (black soap made from olive oil)…
…then slathered with argon oil leaving you feeling squeaky clean, fresh, shiny, intensely relaxed and totally refreshed! Ahhhhh……
PLUS: We can't be in Morocco without a party and a live Gnawa band (there's nothing like chilling-out to those body-moving African rhythms).
We might even invite some acrobatic fire eaters or maybe even a belly dancer? Fingers crossed… 🙂
What's Gnawa? 
Gnawa music has been part of Morocco's music culture since the 11th century when sub-Saharan African slaves were brought to Morocco. The Gnawa people practice a mystic, spiritual version of Islam, combining Islam with sub-Saharan West African traditions.
Traditionally, this music is designed to place the participants of the ceremony in a trance, where they can communicate directly with the spiritual realm as well as heal participants in the ritual. Gnawa music has evolved over time from a spiritual practice to a secular art, but in doing so it has found its niche within popular Moroccan culture.
If you like, take a moment to listen to Grammy-nominated Innov Gnawa collective sing the beautiful Gnawa song, "Toura Toura." They use traditional instruments, from the lute-like Sintir that the lead singer (the Maâlem) uses to call the tune, to the metal Qarqaba (castanets) which the kouyos (chorus) use to keep the rhythm.
Close your eyes and imagine yourself in Morocco…..
Five incredible days together with daily deep-dive mastermind sessions and lots of juicy conversations all week!
Pre-trip Preparation Class
Five-star accommodations double occupancy, five nights at Le Riad at Club Med Marrakech la Palmeraie Resort – Exclusive Collection Space Suite – Garden View (yes, there are 2 beds in the rooms)
Five delicious breakfasts
Five beautiful dinners
Five mouth-watering lunches
Our VIP party with music and hors d'oeuvres
Tour guide for our day around town and the souks
Entrance fees to any sites we visit together in Marrakesh with our guide
All scheduled adventures are totally on us – unfortunately, we can't tell you right now what they are, but we promise they will be EPIC!
A donation on your behalf to "Project Soar." Their goal is to empower teenage girls to be the leaders of today and tomorrow by helping to keep them in school and breaking the cycle of girl marriages and early motherhood.
Your round-trip airfare from home
Transportation by taxi to and from the Medina on your free day
Other non-included items would include souvenir shopping, personal phone calls, spa services, taxis, and laundry.
Personal, medical or trip cancellation insurance
Arrive into the Marrakesh Menara Airport (RAK) on September 18th before 4pm if possible so we can pick you up and get you settled in before dinner. We recommend you depart September 23rd after lunch. (Please do not fly into Casablanca!)
If you want to come earlier or stay later for some exploring – call Ales Struna (pronounced Alesh) our travel planner extraordinaire. He can help you design something fabulous as well as make sure that you actually end up in Morocco at the right time and in the right place!  Feel free to ring him at +1.866.866.5566.
About Morocco…
What can I say? I LOVE Morocco. It is a beautiful country with vast contrasts from stark red deserts to lush green olive groves.
The people are as diverse as the stunning landscape, with Berbers and Arabs making up the majority of the current population.
Islam is the predominant religion, although there are Christians and Jewish people living in the country too.
The people pride themselves in being tolerant and open and they abhor violence.
The King and the Moroccan government are strongly against terrorism and have strict security measures in place to prevent negative influences from taking hold in their country.
Morocco is considered quite safe to visit and in fact – there is a very large expatriate community living in Marrakesh because it is such a beautiful and delightful city with fabulous restaurants, reasonably priced, lots of activities, and a fascinating culture.
You can feel safe walking in the souks, bargaining and shopping – of course just like when you walk about in any city you want to make sure your money and belongings are tucked away safely that's just good practice and common sense.
Most of the people speak both French and Arabic – so if you speak French you will have an especially fun time in town!
However, English is spoken by most people who interact with tourists so you will have no problems communicating with folks while wandering around town.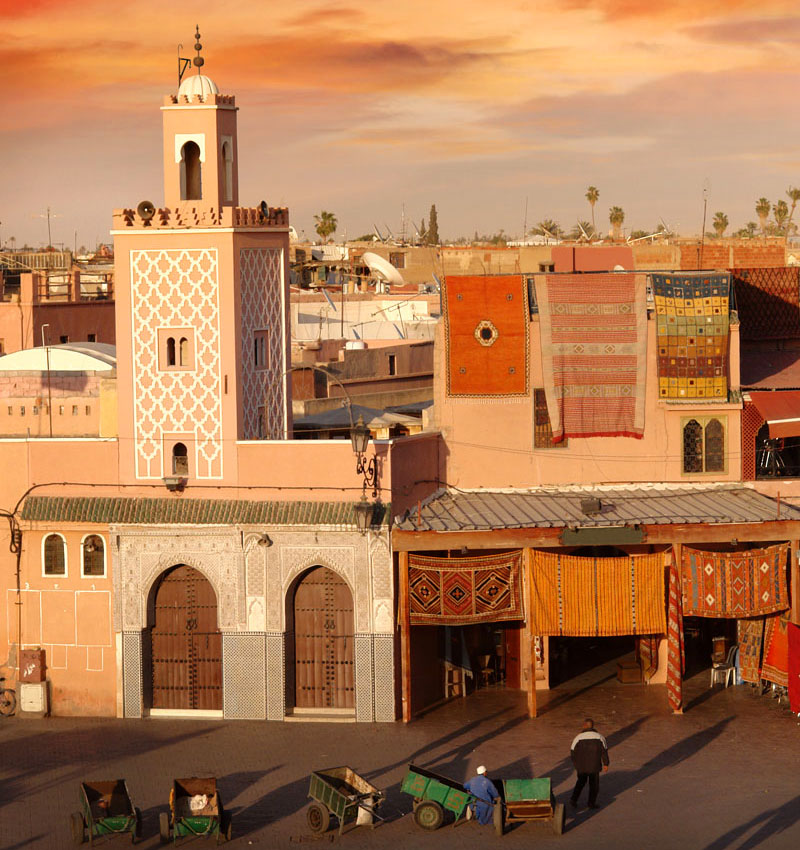 Sheri's deepest belief is
that transformational and experiential travel has an awe-inspiring, soul-stirring, heart-opening, and above of all, life-changing impact on not just YOU… but on the planet.
It's her passion and mission to give passion-driven entrepreneurs the tools, training, strategies and insights they need to create a thriving, fulfilling life and business ― so they can make the difference they came here for.
She deeply feels that we're here to touch the hearts of others, interact, learn, expand our consciousness, give generously, and grow exponentially from our connections with other cultures, spiritual traditions and people.
With great care and intention, she creates the world's coolest travel adventures designed to deliver the ultimate mix of fun, personal expansion and business building savvy.
Through her Wanderlust Entrepreneur Community and signature course, "The Retreat Blueprint Program," she's taught thousands of facilitators how to design exceptional transformational retreats that allow them to change lives and stand out in their niche.
She's also the owner of Journeys of the Spirit Travel®, a boutique agency specializing in bespoke travel, plus planning and management of group travel.
Here's a quote from Anthony Bourdain that's one of her all-time favorites:
"Travel isn't always pretty. It isn't always comfortable. Sometimes it hurts, it even breaks your heart. But that's okay. The journey changes you; it should change you. It leaves marks on your memory, on your consciousness, on your heart, and on your body. You take something with you. Hopefully, you leave something good behind."
Kerrianne Cartmer-Edwards is the founder of Unforgettable Impact brand consultancy, helping audacious women entrepreneurs call in their DREAM clients with a unique look & style that "sparkles and fizzes" with their true personality, energy and awesomeness.
Since 2008 she's helped hundreds of entrepreneurs like you to create irresistible brands that grab attention, create buzz, and get your DREAM clients falling over themselves to work with YOU, specifically. 
She's driven by insatiable creativity, an enduring love affair with style, and the hard-won strategic insights from over a decade as an in-the-trenches online marketer — her best-loved moments in life are when those three collide to make marketing magic.
Everyone knows you need to stand out in the marketplace to attract clients and make money these days — but what's going to inspire your clients to choose YOU over the competition? Branding-wise, most entrepreneurs either don't know where to start, or are too close to their own stuff to have the answers.
Kerrianne makes it fun and easy!
Her favorite things: travel, music, dancing, champagne, red lipstick, and things that sparkle — in no particular order.
Little-known facts: She has dived with sharks, walked across 1200 degree coals, and even thrown herself out of a perfectly good airplane (something she's still wondering about to this day)!
This beautiful song invites you to come visit Morocco. Enjoy!